Are your searching for Top Free Minimalist WordPress Themes? It's a collection of top free minimalist WordPress themes for effective blogging with clean and professional design for distraction free reading. Discover Minimalist WordPress Themes on the WordPress Theme Showcase. Here you can download and search all WordPress themes available around web. Check out these free minimalist WordPress themes to create a content focused blog. All of these beautiful themes are mobile responsive and easy to use.
Clean, minimalist themes allow your content to shine without unnecessary clutter or bloat. The Best Free Minimalist WordPress Themes 2018 – Top 10 Clean Minimal White WordPress Themes to Download Completely FREE!
Best Free Minimalist WordPress Themes 2018
Here you'll find top 10 free minimalist WordPress themes. Globaly is a free responsive WordPress theme with dark yet clean minimalist design. Let's checkout the collection of Free Minimalist WordPress Themes 2018. Don't forget to give kudos to the developers/designers if you do decide download and use any of these themes!
1. So Simple
As the name says So Simple has eliminated all the elements which are not required for personal blogging theme experience. So Simple lets you concentrate on words, it provides interruption free reading experience to all your visitors. There is an encoded theme for you to translate the theme into any language that you wish. The theme looks wonderful on all desktops, tablets and devices as the images, videos and texts can be scaled from mobile device to computers.
2. Hoffman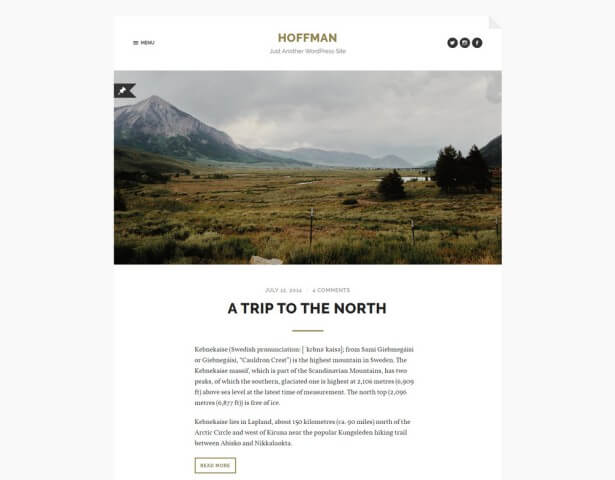 Hoffman is a retina ready and a responsive beautiful minimalistic WordPress theme. It has a set of social icons for you to integrate in your website for better connectivity. Blogs and websites look incomplete without pictures and Hoffman features a beautiful gallery which can either be used as a slideshow or run-of-the-mill posts both look equally attractive. You can use the three custom widgets for flickr widget, comments with avatars and posts with thumbnails. There is a built-in support for Jetpacks tiled gallery and infinite scroll function, all you need to do is install and activate.
3. Briar
Built on bootstrap framework the WordPress theme is minimal and contemporary design. Bootstrap framework has helped in making the theme responsive. You can create a parallax effect with the desired image and a heading of full width by combining with transitional animations. Other basic features like chat, image, gallery, status, quote and status post formats are supported. There is beautiful multi-level navigation which is in three steps can be implemented for your website. You can add a logo and title or tagline and select whether or not to display both.
4. Subtler
Subtler is a single column layout, minimal blog style WordPress theme. The theme looks equally beautiful on a computer or a smartphone which means you have more visitors for your site as nowadays people prefer to use internet over their smartphones. The minimalistic theme has been built with a featured slider, off canvas sidebar and content loading animation. You can configure your style settings from the option panel. There is a gallery which can feature your pictures. There are colours and fonts for you to select according to your requirement.
5. Yuuta
This is a free visual diary WordPress theme for you to document your daily experiences. Post formats look beautiful with Yuuta theme and they respond great to mobiles and computers; your website is expanded. The themes featured images make your posts visually distinct. You just need to select a bunch of images of your choice and click upload and your gallery is ready, the images can be labelled and their sequence can also be changed. The gallery is tiled and there are social buttons which let you post to Facebook and Twitter automatically and also displays like buttons next to posts.
6. Magnus
Magnus is one of the latest additions in the list of minimal WordPress themes. The theme is made especially for photo blogging and is Baeta's first theme to get approval for a place in the official directory. The full-width images for posts give your images a spotlight. You can set your homepage to display posts and the feature enables you to see the latest posts featured image and title at the top of the page. Magnus has used two Google fonts to beautify the theme Montserrat for the header and Karla for the paragraph text.
7. Lovecraft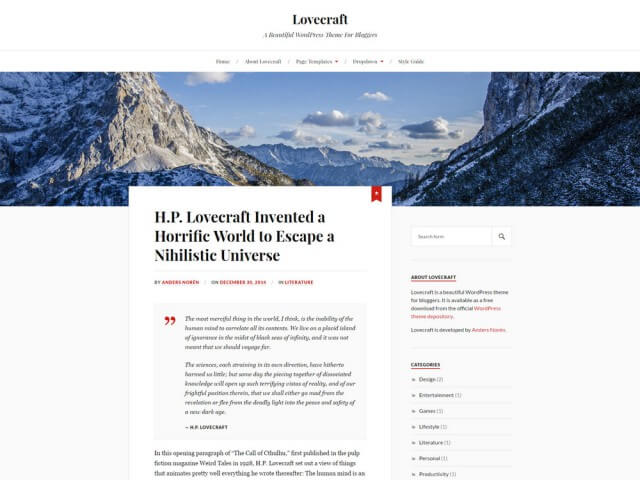 You can use the Lovecraft theme for your website or blog to attract more visitors as the theme helps your website and blog to get a good visual presence. It is a responsive theme and looks great on all devices from computers to smartphones. You can use full width pages without any side-bars making it stand out from the rest of the pages in the website. You can customize the header and add your own images, you have the option to upload many header images at a go and select those to be displayed one for every page load.
8. Vito
Vito is a modern and minimal theme especially for bloggers. It features simple white backgrounds, full –screen layout and a clean design. There are animated featured images and the posts are neatly arranged one below the other. The theme is responsive and feature sticky posts which are fun to use. Vito WordPress theme is translation ready which means you just need to encode the theme and translate it in the language which you wish to use. Besides being widgetized there are social media icons which can be featured on your blog.
9. Apex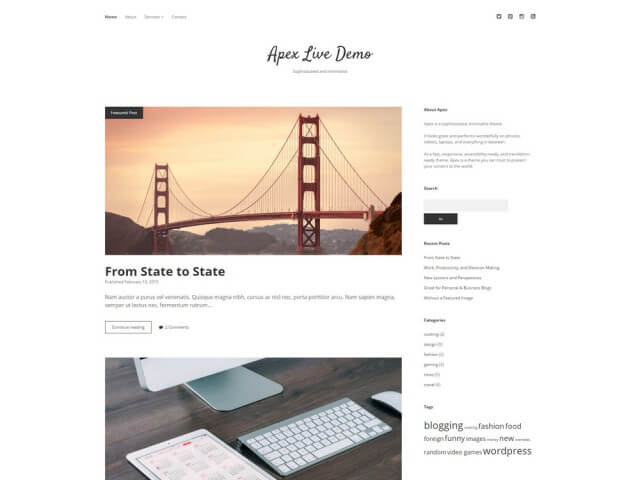 Apex has been built on Bootstrap 3 which besides making it responsive is also a dependable and robust WordPress theme for your blog or website. It is a one page layout design built in six different colour themes. The blog section of Apex includes a single blog post pages and features five blog post types text, multiple image post, single image post, quote and video post. If you have a team and wish to include their details you can do so with Apex theme. The theme is full of short codes and other custom icons which you can use in your website.
10. Kotha
This minimal and clean design WordPress theme is perfect for travel, lifestyle, personal, story sharing, food and recipes blog. Kotha has a trendy design and helps in setting up your blog elegantly and in a clean way. It is WooCommerce compatible for you to sell products or have an online store in your blog. Other features include recent posts, sticky posts, 3 widgets, translation ready, popular posts and different colour theme options to create a beautiful blog.